CLICK HERE to sign up for our monthly newsletter and event notices!
UCRP News
The July monthly meeting of the Union County Republican Party is Saturday, July 16, 2011, at 9:00 AM at the Owltown Market & Restaurant, 2193 Gainesville Hwy., (US 19/129 South). The featured speaker will be Gen Wilson, Director of Development and Past Chair of the Georgia Right to Life. There will be an optional breakfast beginning at 8:30 AM for a cost of $8.20 incl. tax and gratuity. If you plan to have breakfast, please let us know by Thursday, July 14th. For further information call Billy Turnage 706-745-5125, visit www.uniongop.org or contact First Vice Chair Dottie Honea at 706-745-2512
UCRP Updates

2012 Presidential candidates address State GOP convention

A delegation from Union County joined their counterparts from across the state on May 13-14, 2011, in Macon, Ga. for the GOP's annual convention. With the announcement that two presidential candidates would be addressing the convention, more than 2,000 delegates, alternates and guests turned out for the event.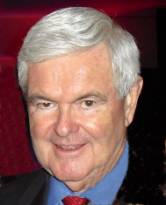 Speaking to a banquet hall filled to capacity Friday night, Newt Gingrich was first of the presidential candidates to address the convention. He was warmly welcomed as he stated, "I am glad to be home." A former professor at the University of West Georgia, he served as U.S. Congressman for two decades representing Georgia's 6 th District, during which time he was minority whip and later Speaker of the House.
Gingrich told the audience that the 2012 presidential election is the most consequential since 1860 when Abraham Lincoln was elected just before the Civil War. He laid out his platform for creating jobs, cutting taxes, developing a sustainable energy strategy, strengthening national security and balancing the budget.
Herman Cain addressed the assembly on Saturday. He is not yet an announced presidential candidate but is scheduled to reveal important news about his decision on May 21 st at Centennial Olympic Park in Atlanta. He asked, "Do you think I would schedule a meeting at high noon at Centennial Olympic Park to say that I am not running?" The crowd gave him standing ovations a number of times as he gave his commitment to free markets, common sense solutions for problems facing the nation, and when he stated that being number two economically and militarily is "not in our DNA."
Mr. Cain is the former CEO of Godfather's Pizza. He is credited with saving the pizza chain from bankruptcy in the 1990s and making it profitable. He has extensive experience in the corporate world and even served as Chairman of the Federal Reserve Bank in Kansas City. He's also a popular conservative talk radio host on WSB- AM in Atlanta. He surprised nearly everyone when he recently was declared the winner of a Fox News debate among the presidential primary contenders in South Carolina.
Many other elected officials addressed the gathering including Senator Saxby Chambliss, Senator Johnny Isakson, Congressman Tom Graves, and Governor Nathan Deal.
State Republican Party Chair Sue Everhart was reelected to her position for a third term, along with other party officers who will serve for the next two years.
Grassroots Leadership Spotlight – Andrew Turnage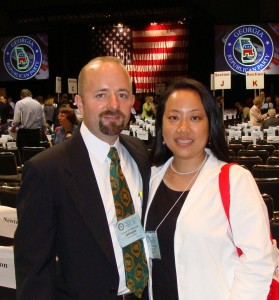 As the Georgia Republican Party welcomes the newest members of our leadership team, we are both excited and encouraged by the outstanding individuals chosen to represent our many counties and congressional districts across the state. As one of the GAGOP's newly elected Chairmen, Andrew Turnage brings over a decade of proven leadership to the helm of Georgia's 9th Congressional District Republican Party.
Since taking part in 'Georgia's Republican Revolution' all the way back in 1998, Mr. Turnage has played a vital role in the continued GOP growth throughout the state. First becoming involved locally within the Union County Republican Party, he worked tirelessly to raise funds and facilitated GOPAC's candidate training, "Flying Upside Down," for individuals from the top of the ticket to the bottom. Andrew also had the opportunity to serve on the Union County Leadership Teams for George W. Bush, Sonny Perdue, Saxby Chambliss and countless other campaigns, securing tremendous results that would ultimately lay the groundwork for a Republican stronghold on the region that persists to this day.
A previously elected State Committeeman, Andrew has not missed a beat in assuming his leadership role atop the 9th District GOP. "I see the rising tide of liberalism in America and its attack on faith, family and freedom. These attacks threaten our conservative Republican values, and I will fight to promote and protect the 9th District, and work to support conservative Republican candidates who embody our core values," he explained. Looking ahead to 2012, Mr. Turnage expounds that the group's first goal will be to ensure that the GOP does not lose ground in an already heavily-Republican district. Above that, however, his sights are firmly set on each and every one of the remaining Democrats in northwest Georgia.
Proudly a 6th generation Georgian, Andrew and his wife reside in Blairsville, a town which he affectionately refers to as "God's Country." A graduate of North Georgia College & State University, he later went on to receive a Master's degree from the University of Georgia. Mr. Turnage has remained very active in his community as well, and has spent time on the Blairsville Union County Chamber of Commerce, Keep Our Mountains Beautiful and the Union County Volunteer Fire Department.
Thank you, Andrew, for your hard work on behalf of Republicans in Union County and across Georgia!
For further information contact Bill Turnage,
Chairman of the Union County Republican Party, 706-745-5125. www.UnionGOP.org
We're on Facebook Too
If you are on Facebook, come check out the UCRP and join our Facebook Group Page!